In the early 1980s, the Yao Installation Preparation Foundation was formerly known as Dongguan Anfu Plastic Machinery Factory, located in Dongguan, a famous manufacturing city in China. It is a plastic machine manufacturer with strong independent R & D, manufacturing and after-sales service capabilities.
In the past 40 years, Yaoan has successfully provided tens of thousands of excellent performance extrusion equipment and excellent product services to excellent manufacturing companies around the world, and has been recognized by the majority of customer groups. Yao'an's products cover a wide range of industries: construction, agriculture, medical, transportation, electronics, textile, packaging, furniture, etc .; Yao'an has a dedicated R & D team for many large categories of equipment to ensure the professionalism and precision of equipment technology. Satisfy all kinds of special customization of customers.
As a powerful manufacturer, Yaoan has a number of technical teams with clear division of labor, investing more than hundreds of millions of 80,000 square meters of modern self-owned factories, dozens of large-scale foreign precision CNC machining centers and advanced steel laser cutting centers and other equipment. Each of Yao'an's out-of-the-box equipment is first rigorously communicated through pre-sales, after clearly understanding the customer's specific needs, through the R & D and design of the professional technical team, each production process and each process are strictly controlled, and relevant departments are commissioned After passing the test, we will restore the high standard quality and deliver it to the customer, thus ensuring the standards that Yaoan manufactures: precision, stability and efficiency!
Sheet extrusion equipment, non-woven fabric extrusion equipment (imitation adhesive non-woven fabric extrusion equipment, melt-blown non-woven fabric extrusion equipment), profile extrusion equipment, pipe extrusion equipment, fiber drawing equipment, carrier tape extrusion Equipment, granulation extrusion equipment, etc., Yaoan has everything.
Processing strength
Therefore, in addition to the critical melt-blown filter layer, the huge demand gap in global masks is also driving the growth in demand for spunbond nonwovens. In addition to the medical field, melt-blown non-woven fabrics are also widely used in air purification, liquid purification and other fields. Similarly, spun-bonded non-woven fabrics have good physical and mechanical properties and aerodynamic properties because of their low price. , Household appliances, apparel, car interiors, leisure products, waterproofing, filter coils, construction water conservancy and other fields are widely used.
Dongguan Yao'an Plastic Machinery Co., Ltd. has been researching and developing non-woven equipment for nearly 40 years. It has a strong technical foundation and development capabilities. It can provide customers with various specifications of polypropylene spunbond non-woven production equipment. Spun cloth production equipment, high-speed non-woven composite production equipment and other products provide melt-blown, spun-bonded non-woven fabric production solutions for masks, helping the global "anti-epidemic" and alleviating the "mask shortage" problem.
There are three types of Dongguan Yaoan nonwoven extrusion equipment:
One. PP spunbond nonwoven (nonwoven) extrusion equipment
Yaoan can provide customers with various specifications of polypropylene spunbond non-woven fabric extrusion equipment.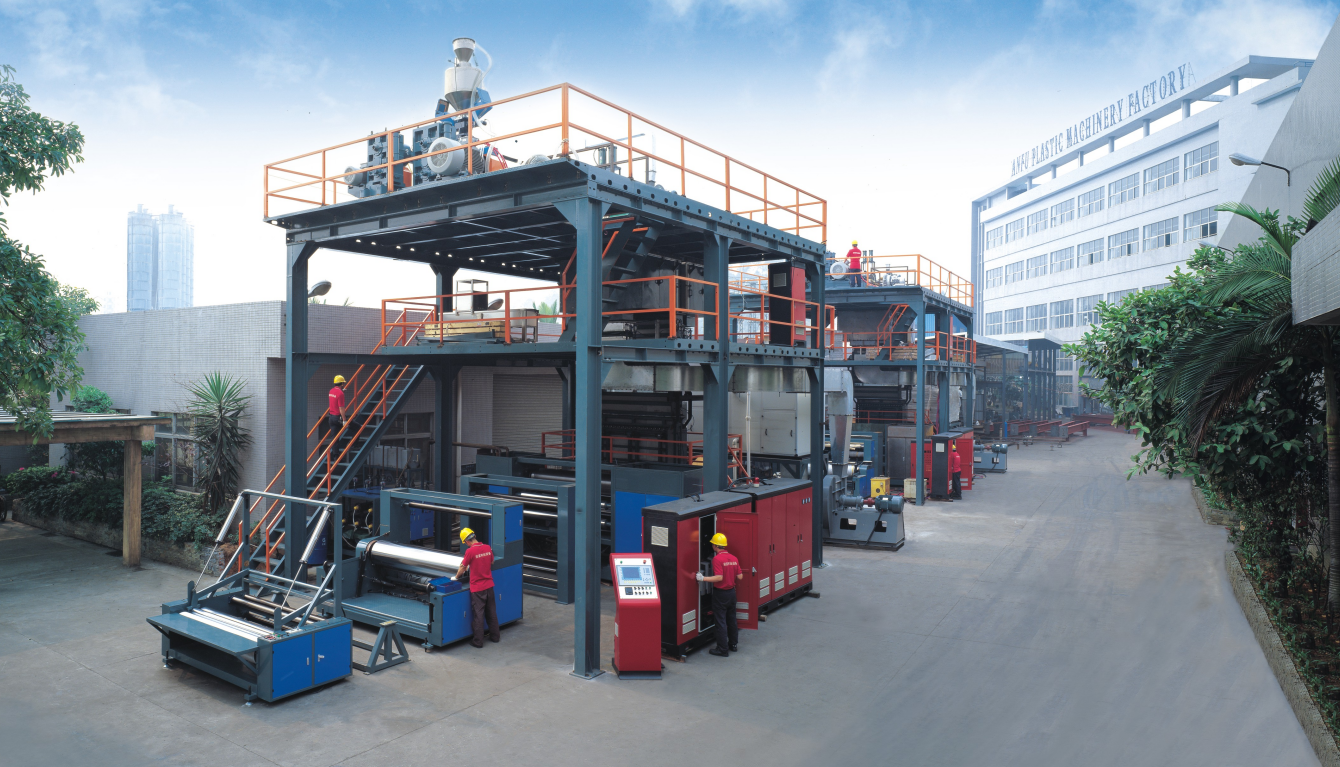 two. Double die (SS) spunbond nonwoven extrusion equipment
Double die spunbond non-woven fabric (non-woven fabric) extrusion equipment: take polypropylene slice as the main raw material, by slice conveying device, melt extrusion spinning system (including single screw extrusion host, melt pump, filter, Spinning box, spinneret, melt pipe, etc.), cooling drafting system (including side blowing device, drafting device, diffusion duct, vacuum heat exchanger device, etc.), web forming equipment, hot rolling equipment, Slitting and winding equipment, air conditioning and refrigeration system, and automatic control system.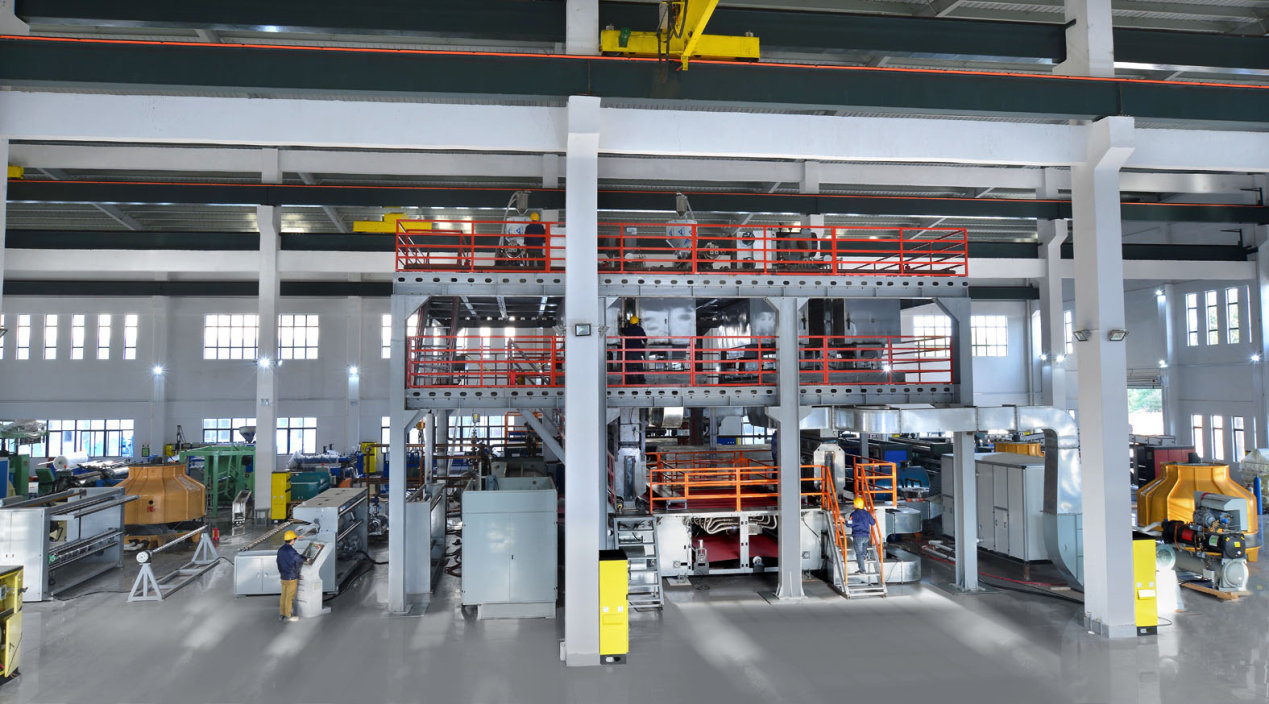 Yao'an dual-die spunbond nonwoven fabric puffing equipment absorbs advanced technology and experience at home and abroad, easy to operate, high degree of automation, PLC touch screen control, reliable product quality, high speed and high yield. The width of the equipment is generally 1.6 meters, 2.4 meters, 3.2 meters, 4.2 meters, and can also be customized according to customer requirements.
Applications:
Medical and hygiene: surgical clothes, protective clothes, hats, masks, sauna clothes, tape, etc.
Agricultural protective equipment: shed cloth, food packaging, plant insect protection, cold protection, sun protection, etc.
Packaging, lining: suit bag, shopping bag, gift bag, dust cover, packaging bag, children's sleeping bag, shoe leather, luggage, mattress, sofa lining, storage box, hanging bag, wardrobe.
As well as automotive, home decoration, waterproof, filter coiled material, roadbed, cloth for embankment and other fields.
three. Meltblown nonwoven extrusion equipment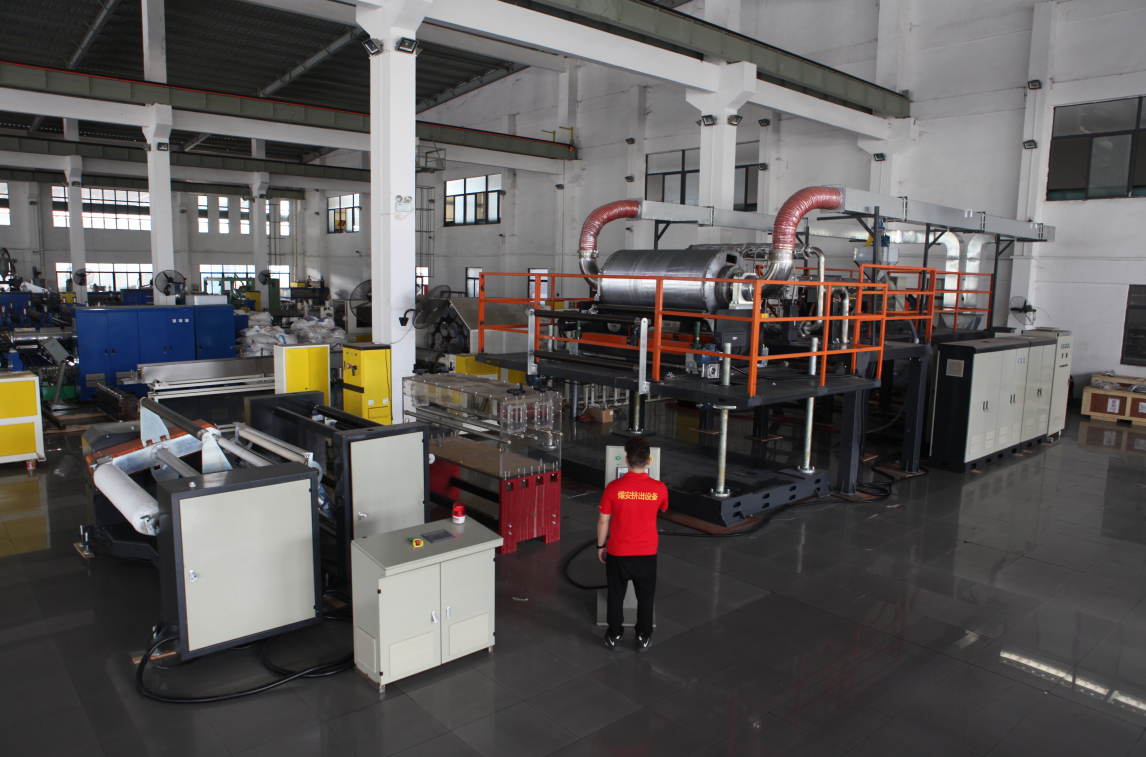 Melt-blown non-woven fabric performance: using high-melt polypropylene as raw material, non-polluting, non-toxic, environmentally friendly, with high filtration performance and soft hand, can block filtration and isolate dust, particles, bacteria and viruses.
Functional treatment: lasting static electricity, good adsorption, antibacterial
Product Specifications:
Weight range: 10 ~ 200 GSM
Embossing: with or without pressure map
Wide width: 1.6m, 2.4m, 3.2m, 4.2m
main application:
Medical supplies: surgical clothes, masks, isolation clothes, etc.
Air purification: car air filter, air conditioner filter, indoor air purifier, industrial engineering purification system.
Liquid purification: car oil filter, filter element of water purifier, etc.